Home Theater Reference Review System
August 1, 2002

For the past few months Films on Disc has undertaken a huge reference home theater revamp. In an effort to deliver the most accurate appraisals of DVD quality, new twin CRTs have been stacked in a rear configuration. Two CRT projectors were used in order to light up a ten foot wide 16 x 9 screen without overdriving the projectors and thereby diminishing image quality. With all the new associated equipment, a new black hole theater environment, we hope that our critical evaluations will enable us to present the most accurate DVD reviews possible.
We take our reviews seriously. If a DVD looks good on our very revealing system, it will look good on smaller less revealing systems as well. Many readers make their purchases based on reviews. DVDs evaluated on less revealing equipment may fail to detect the nuances that make or break DVD quality. The flip side of the evaluation coin is that inferior equipment can mean a DVD is not being displayed to its full potential and equipment may introduce artifacts not inherent to the source DVD. Does the DVD player present the sharpest image possible from the software? Is full color bandwidth realized by the equipment?
NTSC artifacts are often hidden when resolution is pinched on a display device. Improper equipment set-up can introduce its own set of problems. Pushed contrast levels can bloom image causing a loss of detail. A careless turn of the sharpness control can introduce excess noise or exacerbate edges causing ringing. Calibrated equipment is an important part of getting the image from your system. Is the monitor capable of showing everything, warts and all, contained on the software? Does the logic steering in your surround processing accurately place sound throughout the theater. Do acoustic anomalies in the theater create their own problems? All these aspects of controlling the equipment and environment impact on an evaluation.
The Films on Disc reference home theater does feature some of the finest equipment available, but in an effort to maximize performance, crack ISF set-up man Jim Doolittle inspired and consulted on the theater from the get-go. It all started when Jim was on a visit to the last incarnation of the theater and I went into a room behind the theater to retrieve a piece of equipment. Jim's eyes lit up! Rear screen stack was flashing like a set of road markers. That was the beginning of the new theater. Once the equipment arrived and the theater environment was made image and sound friendly, Jim arrived (from Boston) to set-up and calibrate the stack of Runco 1200 9 inch CRT projectors. Anal in, anal out, so they say. The time you put into careful set-up will yield pristine pictures, and such is the case in our theater. An optical comparator was used to set gray scales and ISF tech Ken Whitcomb (from Indianapolis) stopped by with his Photo Research PR-650 color analyzer to check settings against the comparator and make some very minor adjustments. The PR-650 measured light output from the stack as approximately 7.75 footlamberts. Doesn't sound like a huge amount of light, but dynamic range is spectacular.
Setting up a vertical stack of projectors to yield the best image took some thought and determination. A stand was built accommodate both projectors. One was set-up as ceiling mount and one as a floor mount thereby situating the CRTs in an opposing configuration to create extraordinary white field uniformity. Each projector is set up step by step on its own and then the slave projector is converged to the master. A vertical stack is definitely a lot easier to converge than a horizontal stack as previous experience taught. Happily, the 1200s seem to be very stable beasts, satisfied with keeping their convergence in one place. The convergence process must be duplicated for multiple memories in the projectors, but the process is far less arduous than the initial set-up. In our case, set-ups for base 6500K, 1080I HDTV, and 5400K for black and white were set-up. Aspect ratio control is done through the Runco 4404 Ultra video processor.
It's important to remember that having reference quality equipment may not be enough. Set-up and maintenance must be first-rate. How many times have you seen a home theater demonstration displaying poor images? Too many times is the answer. Great equipment can only create beautiful images when it is properly set-up. Top rank calibrated monitors can accurately replicate colors as intended. A calibration by a qualified technician is invariably necessary. Even the best equipment doesn't perform perfectly out of the box. With home theater projectors, slight convergence errors can make an image appear softer. More contrast than your equipment can handle can make a picture look soft or even distort the geometry. Too much brightness can make a picture look washed out. Has the surround sound been properly balanced? It's the only way to know if a disc has been mastered properly. The answer is great weight must be given to finding the right set-up people.
It's crucial in making a fair evaluation that display and audio equipment have the ability to replicate what is on the software. Sometimes you can fiddle with a picture to make it look better, but who wants to get adjust the picture and sound every time you watch a different movie. A standard is of utmost importance. DVDs and laser discs should be mastered to a universal standard. Colors should be presented for mastered for 6500 degrees Kelvin viewing and equipment should be calibrated to decode this accurately. You should be confident that if your equipment is properly calibrated a well mastered DVD will look great. And so it falls upon the reviewer to hold to even more stringent standards. Reference equipment and diligent maintenance are the answer.
Films on Disc does attempt to maintain the highest standards in its home theater equipment. Projectors are calibrated ISF trained personnel. Projector convergence is constantly monitored and disc anomalies are checked against possible set-up errors.
DVDs are evaluated on the following current home theater equipment:
DVDs are evaluated on the following current home theater equipment:
Rear configured Stewart 67 1/2' x 120" Aeroview 1.0 Gain Ultimate 4-Way ScreenWall , 2 Runco 1200 9 inch CRT Projectors stacked floor and ceiling configuration, Runco 4404 Ultra Digital Video Processor, Faroudja DVP3000 Digital Video Processor, Lexicon MC12 Surround Processor/Switcher, Sony 7700 DVD Player, Sony 7000 DVD Player, Panasonic RP-91 DVD Player Sony 9000 DVD Player, Pioneer Elite CLD-97 Laser Disc Players with AC-3 Modification, Revel 7 channel speakers configured with 2 Gems Front, 1 Voice center, 2 Embrace sides, 2 Embrace rear, 2 Bag End Infrasubs, Lexicon 7 channel Amp, Lexicon T-700 System Remote Control with TCM-3 RF interface Speaker Wire and Interconnects by Monster.

Theater Views

Click on the above thumbnails images for larger pictures and more detailed information.

On the Rack


Lexicon 7 channel Amp

Lexicon MC12 Surround Processor

Panasonic RP-91 DVD Player

Runco 4404 Ultra Digital Video Processor

Faroudja DVP3000 Digital Video Processor


Monster M-Series Interconnects

The Screen


Stewart Ultimate 4-Way ScreenWall with Aeroview Screen

Behind the Screen


Two Runco 1200 9 inch CRT Projectors


Sharp X


ADA 6 Component
One Input, Six Output Distribution Amplifier


Monster M-Series Interconnects

Trimmings, Decor & More


Lexicon T-700 System Remote Control with TCM-3 RF interface





Revel Speakers, 2 Gem, 1 Voice, 4 Embrace.


Monster Speaker Wire


Acoustical wall and ceiling panels from Acoustic Innovations

©


Selections from the Feature Archive include articles on Akira Kurosawa, Blonde Bimbos, Frank Darabont, Steven Culp, John Herzfeld or Vietnam: The Hollywood Pariah, and many more....



Watching Movies or Watching Video
Don't lose sight of why you bought that DVD in the first place.
---


Jim Doolittle
ISF Instructor. Premier calibrator and expert front projection system setup technician in the Boston area.
---


ISF Course Instructors Jim Burns and Kevin Miller are hosting the Digital Film Forum. Join professionals and enthusiasts for lively home theater discussion.
---


Looking for information about widescreen movies and hardware. The Widescreen Movie Center is the place to go.
---


The AV Science Forum provides great feedback on the latest home theater equipment with a wide range of opinions. Outstanding home theater resource.
---


Manufacturer of computer-video interfaces, switchers, distribution amplifiers, computer-video scan converters, and high resolution cable. Found in many high end home theater systems.
---


Maximizing home theater sound and image featuring quality interconnects and speaker wire.
---


"CinemaQuest has matched the correct TV color of gray in a light fixture."__Joe Kane
Monitor bias lighting in a pre-packaged configuration. Take the strain off your eyes.
---


DVD Demystified makes it all clear. The official Internet DVD FAQ for the rec.video.dvd Usenet newsgroups.
---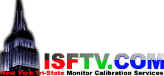 ISF Monitor Calibrations in the Tristate New York area. Lots of hardware info and frequent hardware peaks from video expert Kevin Miller. They may be judgmental, but that's the point, isn't it. Lots of DVD reviews plus news and more.
---

Have you visited Home Theater Talk lately? One of the friendliest places on the Net for Home Theater and DVD discussion, you can get help for installation problems or simply share your opinions with other Vidiots.
---


A home theater site filled with a host of useful information, including links to many other site.
---
Imaging Science Foundation


The Imaging Science Foundation promotes proper standards in home theater viewing. ISF trained technicians offer monitor calibration services to consumers. The difference in a properly calibrated monitor can be astounding. Click on the image to find an ISF member near you.
---

ETEKNet is the web's only 24-hour, totally FREE source for all your home theater, DVD, Dreamcast, PC, and Networking tech support needs!
---


Terrific resource for learning about the ins and outs of movie poster collecting.
---


The National Film Preservation Foundation (NFPF) is the nonprofit organization created by the U.S. Congress to save America's film heritage.
---

The home of John Tisch's invaluable Poster Price Almanac. Every serious poster collector uses the Almanac as a reference.
---


Reviews of affordable remote controls in the market place. Codes and tips as well.
---


An on-line Home Theater magazine with excellent hardware reviews, including thorough and responsible research. Check it out.
---


Home to The American Society of Cinematographers. Includes features from American Cinematographer Magazine and more...
---


Nearly 40 key software and hardware companies representing leading consumer electronics giants, major movie studios home video and music video units have joined forces to establish the DVD Video Group.
---


BargainFlix doesn't sell movies! We just tell you where to get them for the best price! DVD reviews, giveaways and more.
---


Agoraquest is offering reviews, forums, news, and more dedicated to Sony products including, televisions, cameras, audio, DVD, and more.
---

The Movie Poster Archive includes extensive poster images from the films of stars like Susan Hayward, Kirk Douglas, Katharine Hepburn and many more. Our featured star is Kirk Douglas.
---


A Star is Born/A,B



Judy Garland is brilliant in the great Hollywood tale of one star on the rise and another sliding into the abyss. James Mason is wonderful alongside Judy.
---

Click on the DVD MIA symbol for profiles of DVDs missing in action.
Add films to the DVD MIA Master List by filling out a simple form. Click Here
---